Welcome to Bodecka Kennels German Shepherds.
Dogs Vic number: 3008298300
Pet Exchange Register number: RB102129
I hope you enjoy your visit to this site and come back to see it again as it is the most visited German Shepherd site in Australia which is constantly being updated.
This Site was last updated on 7/1/2023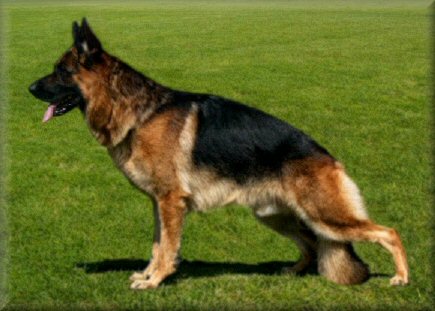 Ch. *Bodecka Grandslam. (Louie)
Cl. 1. 'A'.'Z' H-neg
Multi Excellent
Very Good Merit
Sire: Ch. *Iwan Vom Lechtal (Imp Gmy)
Dam: *Bodecka Bolly. CD. (Stella)
Louie's dam Stella has been graded Multi Excellent Sellect at Australian German Shepherd Main Breed Exhibitions.
In her pedigree are Australia's most out standing proven on going producing German Shepherd bloodlines.
Stella achieved an Excellent Medal and won a National Gold Medal in Obedience at the 1996 German Shepherd National where she also won Intermediate in Show under Herr. Eric Orschler. SV. (Gmy). Stella has also won the Dual Trophy for Show & Obedience at the 1996 German Shepherd Main Breed Exhibition where she was graded Excellent Select in the show ring.
An achievement that no other top show dog or bitch has done before at a National or Main Breed Show for which Stella received an Award of Distinction for her outstanding efforts.
In 2004, Ch. *Bodecka Grandslam "Louie" was the
German Shepherd Dog Club of Victoria Inc.
Specialty Show Dog of the Year Trophy winner & also the Schneider Trophy winner of the Year.
Art, Graphics & photos of Bodecka dogs
belong to
Bodecka Kennels
German Shepherds