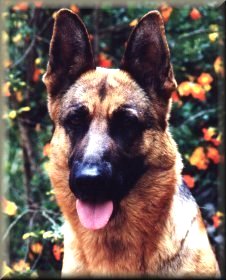 Between 1992 - and late 1996 (retired) Krista was the best German Shepherd Obedience Bitch, trailing in Victoria, she done extremely well in Victorian Canine Association Obedience Trials & G.S.D.C.V.Inc. Obedience Trials, she also won many G.S.D.C.V.Inc. Inter-Branch Fun Day classes.

Krista won the 1993 G.S.D.C.A.Inc Main Breed Exhibition Show & Restricted Obedience Trial, run-off for Best in Obedience Trial, 10 weeks after she whelped a litter.
Krista also won the G.S.D.C.V.Inc 1994 Championship Show & Trial, Walter Reiman Dual trophy for Show & Obedience.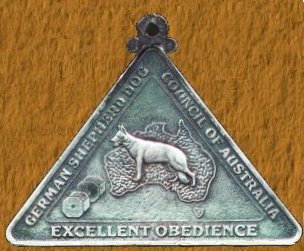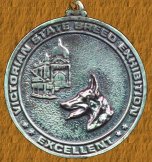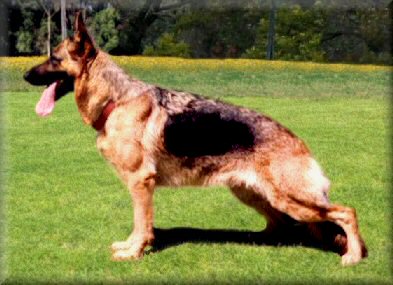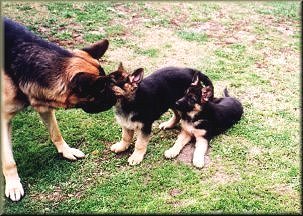 Zack, Kruger & Krista

Krista and 3 generations later (Krista, Stella, Ela & Elie)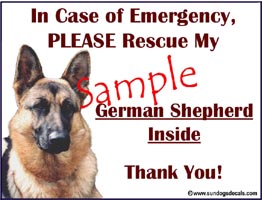 Krista has been a star in an American company
for many years now that sells many dog breed Decals,
for more info - SUNDOGS DECALS
FOUNDATION BITCH
Krista won the UD. & Open Bitch Obedience classes at 1996 G.S.D.C.A.Inc National Championship Show & Restricted Trial.

So far Krista's progeny have well over 50 Excellent Obedience Medals between them plus 2 Tracking Excellent Medals.
Krista also has a litter brother in New Zealand, * Spellbinda Bold Archer C1. 1. 'A'. (Kruger) who is a New Zealand Obedience Champion. He is also Dual Excellent in Show & Obedience.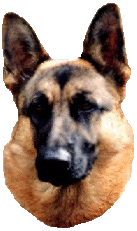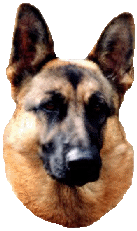 * SPELLBINDA GOLDEN GIRL. UD. Cl. 1. 'A' (3/2). (Krista)
Dual Excellent (Show & Obedience)
Whelped 26/2/1991. - 31/3/07
Sire: CH. * Dorsten Monte Cito. CL 1. 'A'.'Z'. H-neg.
2 x Australian Sieger.
3 x Gold Medal National Show winner
Multi Excellent Select. (Show)
Multi Excellent. (Show)
Owners: J & J Haase
Dam: * Erntemond Galaxy Girl. CL 11. 'A'
Owners: Spellbinda Kennels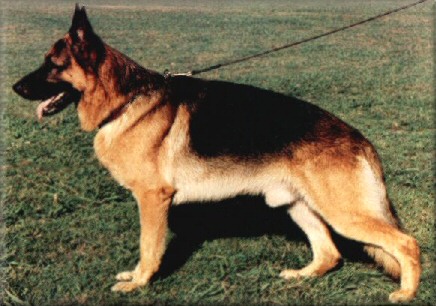 Ch. * Dorsten Monte Cito (Tyson)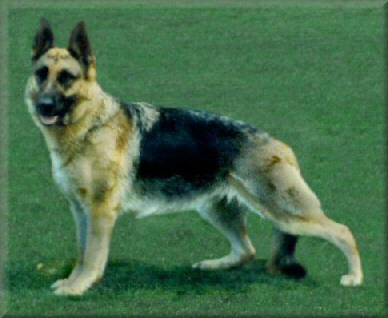 Erntemond Galaxy Girl (Sasha)

I started food training Krista in obedience at 8 weeks of age. Krista had her first taste of Dual competition when she won a Baby Bitch Show class & Baby Puppy Obedience class at an G.S.D.C.V.Inc Inter-Branch Fun Day in Ballarat in 1991.
By the age of 13 months Krista entered her first Victorian Canine Obedience Trial, she gained her CD., CDX. & UD. titles in 13 trials over a period of just under 13 months.
Krista has 6 Excellent Medals in Obedience, at that time it was the most Obedience Excellents a German Shepherd brood bitch in Australia had gained and possibly still is. Krista has also been graded Excellent in show.