CH.*BODECKA GRANDSLAM. (Louie)
Cl. 1. 'A'(3/2) 'Z'(0/0) H-neg.
Multi Excellent
Very Good Merit
Breeder / Owner / Trainer, Jenny Joseph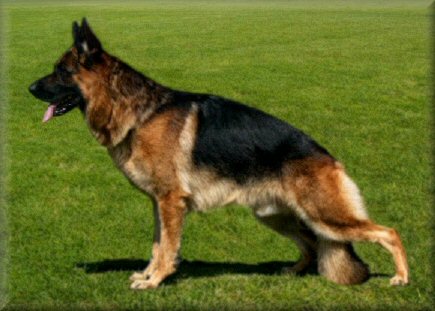 Louie's 2005 Show Results
On the 13th February 2004 at the Ballarat Dog Club. Inc. Championship Show, Louie came 3rd in Open Dog. Graded Excellent. Judge: Mrs Karen Hedburg (N.S.W)
Critique: Double P1 Upper right. Large, medium strong streched dog of very good type. Very good head expression, lovely dark mask and eye. Good wither firm back, very good length and lay of croup. Very good fore and hindquarter angulation where the upper arm whilst of very good length is slightly short. During movement shows very good expansive ground covering gait, the reach could occasionally be more expansive at the fast gait and the ligaments of the back are slightly loose.
On the 20th February at the Berwick All Breeds Kennel Club. Inc.Championship Show, Louie came 4th Open Dog.
Judge: Mr Vince Tantro. (Vic)
Louie was retired from the show ring after the Berwick All Breeds Kennel Club show due to a back injury that couldn't be fixed.
I would like to thank all the Judges for their placings of Louie over his show career.
Plus all Louie's show handlers for their outstanding handling efforts with him.


...............

..............