Advantages of Pure Bred Dogs
History tells us that man has endeavoured, since the beginning of time, to produce animals of desired characteristics and features. the pedigreed dog is an historical success story, a tribute to man's creativity.
There is hardly a useful or recreational pursuit, of man, that the dog may not enhance or complement and all dispositions are available.
The pedigreed dog is infinitely more predictable as to size, characteristics, temperament and coat than its crossbred relatives.
The Australian National Kennel Council and its Members Bodies totally and unequivocally oppose the practice of training of a dog to attack humans or any other animals, or of causing dogs to fight. We totally support any State or Federal Laws that would outlaw this practice. Such practice is an offense against Member Bodies' Regulations.
Whilst appreciating the rivalry within the pack, we expect all members to have their dogs under their control, particularly whilst in public places. They should endeavor to ensure that their animals do not participate in a one on one, or many on one, aggressive act at any time.
Code Of Ethics Of Responsible Dog Ownership Including Keeping, Welfare, Breeding, Selling And Disposing Of Dogs By Members Of The Victorian Canine Association Inc.
SECTION 1. -------- COMPLIANCE WITH CODE OF ETHICS
Each member, upon signing an application for membership or renewal of membership of the V.C.A.Inc., and being duly elected to general membership of the V.C.A. Inc., shall, in addition to agreeing to be bound by the Constitution, Rules and Regulations of the V.C.A. Inc., be also bound by the V.C.A's Code of Ethics relating to responsible dog ownership, including the keeping, welfare, breeding, selling and disposing of dogs by members to the effect of the terms and conditions set out under Section 2 hereof.
SECTION 2. -------- CODE OF ETHICS AND UNDERTAKING
In consideration of the Victorian Canine Association Inc. electing me to its general membership and approval of that renewal from time to time, I pledge to the Victorian Canine Association Inc. that: -------------
1. I shall ensure that at all times all dogs under my control are properly housed, fed, watered, exercised and receive proper Veterinary attention, if and when required.
2. I shall not allow any dogs under my care to roam at large and when away from home ensure they are kept fully leashed, or under effective control, at all times.
3. I shall breed only for the purpose of improving the standard of the breed, and not for the pet market or any other commercial purpose.
4. That excepting in extenuating circumstances, I shall not breed from any bitch kept by me causing it to be mated before it is twelve months of age. Thereafter I shall not breed from any bitch kept by me causing it to whelp more than twice in 18 months. I will not breed any bitch kept by me causing it to whelp more than six times without prior veterinary certification of fitness for further breeding.
5. I shall not permit any of my pure bred dogs to be mated to a dog of a different breed, to a crossbred dog, or to an unregistered dog of the same breed.
6. I shall not sell or otherwise transfer from my care any puppy under eight weeks of age, thus allowing for vaccination to be given at six weeks of age, and the necessary ten to fourteen days for the vaccine to take effect. I shall not export a puppy under the age of 12 weeks.
7. I shall ensure that all persons acquiring dogs from me clearly understand their responsibility for the care and welfare of the animal, and that they have the time and facilities (i.e. adequate fences, sufficient room and proper shelter, etc.) to perform their obligations.
8. I shall provide to all purchasers of dogs or placed by me, written detail of all dietary and immunization requirements and/or an appropriate publication relating to such requirements and responsible dog ownership.
9. I shall not sell any dog to commercial dog wholesalers, retail pet dealers, or directly or indirectly to allow a dog to be given as a prize or donation in a contest of any kind.
10. I shall not knowingly misrepresent the characteristics of the breed, nor falsely advertise, or mislead any person regarding the performance of any dog.
11. I shall ensure when selling or transferring a dog to another person that documents as required by V.C.A. Inc. Rules or Regulations, will be provided to the purchaser or transferee.
SECTION 3.
Any member failing to observe any provisions of the Code of Ethics may dealt with under the Rules of the Victorian Canine Association Inc.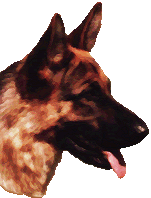 VICTORIAN CANINE ASSOCIATION

Membership of the V.C.A. is compulsory if you are proposing to exhibit, trial or breed from your dog.

V.C.A. Titles

Grand (CH), Champion (CH), Field Trial Champion, Dual Champion, Tri Champion, Retrieving Trial Champion, .O.C. (Obedience Trial Champion), C.D. (Companion Dog), C.D.X. (Companion Dog Excellent), U.D. (Utility Dog), T.D. (Tracking Dog), T.D.X. (Tracking Dog Excellent), T.CH. (Tracking Champion. A.D. (Agility Dog), A.D.X. (Agility Dog Excellent), A.D.M. (Agility Dog Master), JD. (Jumping Dog) JDX. (Jumping Dog Excellent), JDM. (Jumping Dog Masters),E.T. (Endurance), N.F.D., N.R.D., R.R.D.
Schutzhund Training titles are not included in these above titles as Schutzhund is not recognize by the Australian National Kennel Council.